SUPPORTING GIRLS IN TANZANIA TO STAY IN SCHOOL AND THRIVE
Through our new project in Tanzania, we're supporting girls in primary schools across the Tarime and Serengeti districts to stay in school, enhancing their life skills and opportunities, and strengthening local community support for girls' education.
Every girl deserves the right to an education, to feel safe and to be treated equally. To millions of girls across the world, a seat in school is everything. And for girls in economically deprived regions like Mara in Tanzania, the chance to stay in school and learn is the chance to gain the confidence, knowledge, and safe space they need to thrive.
Despite progress in recent years, girls in Tanzania still face barriers to complete their education and achieve their dreams. In many communities, persisting negative attitudes toward girls' education, exposure to early marriage and child pregnancy, and an unequal burden of domestic responsibility prevent girls from finishing primary school or moving on to secondary education. In schools, many teachers aren't yet equipped to deliver the gender-responsive, safe and inclusive learning environments that young girls need, denying them their equal right to education and opportunities.
Watch highlights from the programme in Tanzania
In Tanzania, only 73% of girls complete primary education and less than 34% transition to secondary school. It's time to change that.
IT'S NOT JUST A SEAT. IT'S HER FUTURE
Thanks to generous donations from across the UK for our Save Her Seat campaign, including funding from the LFC Foundation and match funding from the UK government, our new project is already starting to transform the lives of more girls across Tanzania. Together, we're now empowering girls across the Mara region to rise above unequal treatment and learn, lead and succeed.
Over the next three years, we'll extend our unique play-based approach to support over 4,000 girls in 40 primary schools across Mara's Tarime and Serengeti districts, promoting the value of girls' education and challenging harmful and discriminatory practices that exclude girls from school. We'll also train and support over 100 teachers and 33 education officials, and reach over 6,000 community members through community engagement activities.
"The mission for the LFC Foundation is to create life-changing opportunities for children and their families, both home and away. So, we're really committed to supporting the work that Right To Play are doing in Tanzania," says Katie Ellis-Carrigg, Head of Partnerships at LFC Foundation, who recently visited our existing project schools in the Mara region. "It's been invaluable to see the types of learning and the play-based theory that Right To Play has applied across the schools in Tanzania so far. It's important for us to support this project and see more girls having that opportunity to stay in school."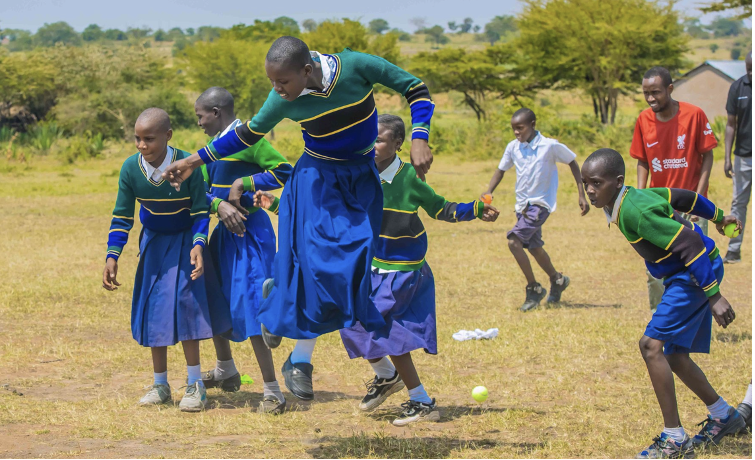 "EDUCATING GIRLS IS INVESTING IN THE FUTURE." MARIA MONGI, RIGHT TO PLAY TANZANIA
Working hand-in-hand with government officials, teachers and local communities, we're enhancing girls' life skills to support improved learning outcomes and educational attainment, creating safe and inclusive learning environments in primary schools to support girls' retention in the classroom, and tackling gender norms, reducing barriers and building support for girls' education.
"It's very important to address the challenges facing girls in the community in a holistic manner. Education for girls is their passport for tomorrow. Educating girls is investing in the future," says Maria Mongi, Country Director, Right To Play Tanzania. "I'm saying this because I'm proud to be part of this project. It's going to build girls' capacity to be able to challenge the violation of their rights and improve their situation in general. Saving a girls' seat in school will give her a chance to challenge the status quo."
Sign up to hear more about how we protect, educate and empower children around the world.